Exhibition and conference for security, safety and fire protection.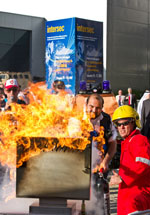 Intersec is region's largest and most comprehensive exhibition and conference for security, safety and fire protection in the Middle East. Intersec has played a major role in the last 16 years in reflecting the security industry worldwide. The exhibition and conference combines a strong international profile, with a huge regional impact. Intersec features over 27,000 trade visitors and showcased the latest technologies and apparatus in Commercial Security & Information Security, Aviation, Homeland Security & Policing, Fire & Rescue and Safety & Health.
Epoc Messe Frankfurt, organiser of Intersec 2017, taking place in Dubai from January 22 to 24, has its sights set on reaching a new high in terms of exhibitor numbers – making the event one of the largest and most representative trade platform for security, safety and fire protection in the Middle East. The last edition in January 2016 featured 1,234 exhibitors and welcomed more than 27,303 visitors from 118 countries which made it the largest Intersec of all times.
The continuing growth of Intersec can be attributed to the burgeoning safety and security industry worldwide and the ongoing support of local authorities such as Dubai Police, Dubai Police Academy and UAE Civil Defence. These factors have made Intersec the region's leading trade exhibition in the security, safety and protection industries and a must attend event for anyone working in these sectors.
Ahmed Pauwels, Chief Executive Officer, Epoc Messe Frankfurt, stated: "We have strategically aligned the exhibition and conference with the perceived needs of the region's security, safety and protection industries. The growth of the Dubai edition reflects the regional marketplace and we will continue to explore avenues which will help to further cement Intersec's position as the leading trade fair of its kind for this industry."
Intersec is divided into four sections, namely Fire & Rescue, Safety & Health, Homeland Security & Policing and Commercial & Information Security. The Fire & Rescue section covers products and services within fire prevention & protection, firefighting equipment, emergency alarm & warning systems and rescue equipment. Already confirmed for the next edition include: Tyco Fire, SFFECO, Naffco, Bristol Fire, Underwriter Laboratories, Siemens and Honeywell Fire, to name a few.
The Commercial Security and Information Security section covers control & surveillance equipment, access control, monitoring & recording systems, and information security. Intersec Confirmed exhibitors for 2016 in this section include big names from the local, regional and international markets.


The Safety & Health section covers Personal Protection Equipment (PPE), environmental protection at work, safety at work equipment and health at work.
Finally, within the Homeland Security & Policing section, which more than doubled for the 2012 edition Dubai Police and Dubai Police Academy have already confirmed their participation. The sector focuses on electronics, laboratory equipment and forensic science, logistics support equipment, mine clearance/bomb disposal, optics, physical security & detection.
The Homeland Security section has been further enhanced to include perimeter security and surveillance products as well as an increased focus on aviation security.
Also running alongside Intersec is a growing number of fringe events and features. The 2015 edition featured the the UAE Firefighters Challenge which will see countries from the GCC and Europe compete in a range of tasks simulating real to life fire rescue experiences. The tough competition also acts as a great training ground for developing fire fighters' skills and bringing them to their fittest and most agile state. The competition not only enhances fire fighters' capabilities, but is also a standing tribute to some of the world's unsung heroes who save lives for a living, sometimes while risking their own.
The upcoming edition of Intersec will take place from 22 – 24 January, 2017.
Intersec
Booking Details
If you are interested in getting first hand information from our representative in your country, please just send an email or fill in the contact form, and your enquiry will be forwarded to your local contact person. The sales agent in your region will also be able to inform you about a possible national pavilion and possible government funding for exhibiting at Intersec Middle East.
The prices for an individual participation include the entry in the official show catalogue as well as free exhibitor badges and visitor invitations. Choosing the space only option will give you plenty of opportunities to represent your individual company image by getting a stand contractor to create an individual design for you.