22 February 2017, Abu Dhabi, United Arab Emirates – Aloha Abu Dhabi, the city's most celebrated beach festival, is back bigger and better this year, taking place from 28th March to 1st April at Al Muneera Beach Plaza, Abu Dhabi's first waterfront retail development at Al Raha Beach.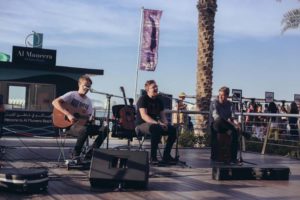 Organised by Aldar Properties in partnership with destination marketing specialists Wise Inc., the five-day extravaganza will bring families and friends together to celebrate spring break with shopping, dining and entertainment amidst spectacular views of the Arabian Gulf. The festival will be home to the region's most talented musicians, artists and street performers, as well as culinary bazaar serving a wide range of gastronomical delights and a trendy selection of 60 fashion pop-ups showcasing the latest and finest spring fashion designs and accessories. Furthermore, most of the exhibitors at the event are UAE nationals.
A spectacular light, sound and fire show promises to delight visitors, who can also explore Al Muneera Beach's stunning shoreline by participating in water-based sports activities and demonstrations.
Mustafa Al Marzooqi, General Manager of Aldar Community Retail, commented: "Engaging communities and providing them with quality lifestyle experiences sit at the heart of our retail strategy, and Aloha Abu Dhabi is yet another demonstration of this, giving our residents, visitors and retailers an opportunity to engage in a fun and interactive environment. Al Muneera Beach Plaza at Al Raha Beach is the perfect destination to hold this event with its cosy beach vibes and lively ambience capturing the true spirit of the festival."
Zahra Al Ali, Marketing Manager, Aldar Properties said: "We are delighted to host Aloha Abu Dhabi for the second time. Following an overwhelming response from both exhibitors and visitors last year, we decided to double the size of the festival. This year, the festival will feature a variety of exciting new attractions, shows and brands to offer visitors an unforgettable entertainment, shopping and dining experience. On the beach side, visitors can experience an ultimate adrenaline rush through water-based sports activities.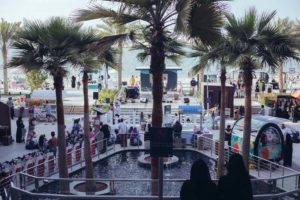 Meaning both 'hello' and 'goodbye' in Hawaiian, 'Aloha Abu Dhabi' reflects Al Muneera Beach Plaza's warm and welcoming spirit. The festival is free and open to the public. Free valet parking will be available outside Al Muneera Beach Plaza.
Conveniently located between Abu Dhabi and Yas Island, Al Muneera is built over an island and mainland precinct, providing spectacular views over the blue waters of the Arabian Gulf. The community's unique feature is the canal that splits the Al Muneera Island from the mainland. The development consists of residential apartment towers, beach-side villas, townhouses and a commercial office building, including a selection of cafes and restaurants along waterfront paths and promenades for residents and general public to enjoy.
About Aldar Properties
Aldar Properties PJSC is the leading real estate developer in Abu Dhabi with USD10 billion in assets, a 75 million sq. m land bank, and through its iconic developments, it is one of the most well known in the United Arab Emirates, and wider Middle East region.
From its beginnings in 2005 through to today, Aldar continues to shape and enhance the urban fabric of the UAE's Capital City in addition to other key areas of the Emirate.
Aldar develops exciting and innovative projects, such as the internationally recognized HQ building situated in the Al Raha Beach development, the Gate Towers in Shams Abu Dhabi on Al Reem Island, in addition to Yas Island's F1 circuit.
Aldar's shares are traded on the Abu Dhabi Securities Exchange (Stock quote: ALDAR:UH), and is a profitable, cash generative business that provides recurring revenues, and benefits from a diverse and supportive shareholder base. Aldar operates according to high standards of corporate governance and is committed to operating a long term and sustainable business in order to provide ongoing value for its shareholders.
Aldar seeks to create quality, comfortable, desirable destinations that enrich the lives of Abu Dhabi residents as well as tourists within the Emirate. Aldar is playing a leading role in the development and provision of world class retail – Yas Mall, international standard education.
Through Aldar Academies, iconic entertainment venues such as the Yas Marina Circuit, and community amenities across its entire portfolio.
Aldar is driven by a vision to be the most trusted and recognized real estate lifestyle developer in Abu Dhabi and beyond.