Uganda is a land of pristine natural beauty and a tourist haven for visitors from all all across the world… is a perfect getaway for travellers from the Middle East.
Just a five-hour flight from Dubai and other GCC countries, Uganda is fast emerging as a popular destination for travellers from the Arabian Gulf region. Direct flights from the Middle East region to Uganda have improved air connectivity which in turn has led to an increase in the number of tourists travelling to Uganda from Middle East countries like the United Arab Emirates.
Described as the "The Pearl of Africa" by Winston Churchill, Uganda offers some of Africa's finest geographical and natural beauty. Source of the mighty River Nile and home to one of the greatest concentration of primates on the planet, this magnificent country is a true African gem waiting to be discovered. Tourists can also witness the abundant wildlife that roams freely in the country's many National Parks and Jungle Reserves.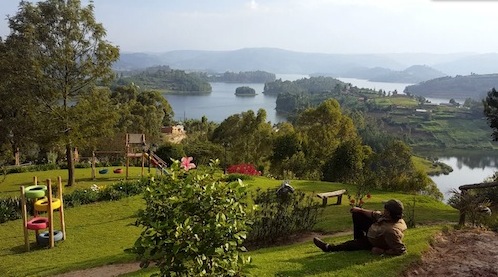 Adventure tourism is also a popular draw for those visiting Uganda. The country's gushing rivers provide excellent opportunities for white water rafting.
Indeed, Uganda is a tourist paradise. World-class hotels, hospitable people, good climate and an abundance of wildlife make Uganda one of the most attractive tourist destinations in East Africa.
The editorial team from the Holiday Guide magazine travelled across Uganda to experience and explore the various tourist attractions in Uganda.
As soon as we landed in Uganda's picturesque airport at Entebbe, we found ourselves surrounded by open vistas…. lush green countryside and the hospitality of the local people.
After spending a night in Kampala, we found ourselves driving through Uganda's lush green countryside to our destination, the Bwindi Impenetrable National Park to meet the endangered and elusive mountain gorillas.
Surprisingly, the road network in Uganda is excellent – not something one would expect in most African countries. Our drive across Uganda was an enjoyable experience as we passed through small villages and towns and observed the simple lifestyle of people living in rural Uganda….
After our initial briefing, the trek upto the gorillas took us through the forest and we soon realised why they call it the 'Impenetrable' forest – we had to literally make our way through this dense forest to reach the home of the endangered mountain gorillas.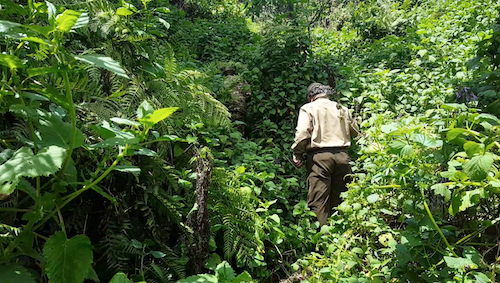 Our team was led by a group of experienced guides and park rangers who guided our team through this rough terrain and helped us navigate through the thick forest…
Coming face to face with these elusive primates is an experience one cannot forget… contrary to their false reputation as the marauding apes, these are intact very docile and easy going animals, often also known as the "gentle giants"…
You can't find these endangered Mountain Gorillas in any zoo as they cannot survive in captivity. In fact, these elusive animals can only be found and seen in Africa, that too in just three countries – Uganda, the Democratic Republic of Congo and Rwanda. There are approximately just 786 mountain gorillas remaining in the world with approximately half of them living in Uganda's Bwindi Impenetrable Forest and the adjoining Mgahinga Gorilla Park. Interestingly, these Gorillas share 98% of their genetic composition with us humans.
Usually male mountain gorillas are twice the size of the females, and can grow to 6 feet tall and weigh upto 350 to 500 pounds and are referred to as the "Silverback" because upon reaching maturity the hair on their back turns somewhat silver. A typical male gorilla is ten times stronger than the strongest human boxer and their arms can stretch to 7 feet!
Only 80 people are allowed to see the gorillas in their natural habitat each day. Because their habitat is very fragile, the number of visitors allowed into their habitat is strictly controlled.
On our way to Fort Portal, we passed through the internationally-acclaimed Ishasha sector of the famous Queen Elizabeth National Park – which is home to over 612 species of birds, buffalos, elephants, hippos as well as the famous tree climbing lions of Ishasha.
It is somewhat uncommon for lions to climb trees. There are no more than 2 populations in whole world of such lions that climb trees. One of these populations is found within the Ishasha sector and the population is found in Lake Manyara National Park in Tanzania.
Driving through the Ishasha sector of the Queen Elizabeth National Park is an experience that will surely rejuvenate your senses – it was certainly a welcome break from the traffic jams on the Dubai-Sharjah road for our team!!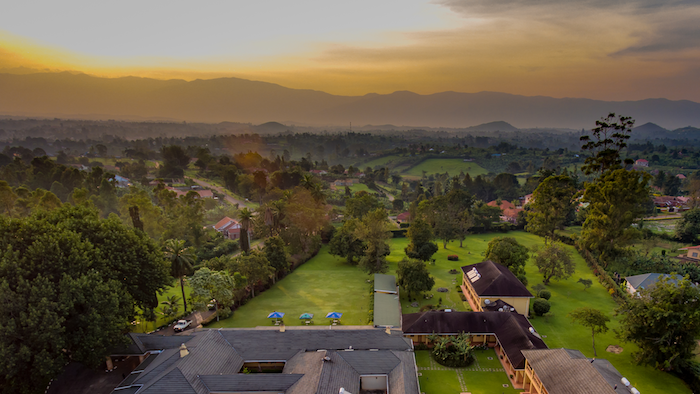 Fort Portal
Fort Portal is another town the Holiday Guide team visited on their 20-day trip across Uganda… This small town in Western Uganda. The quaint little town has an old-world charm and boasts of some excellent hotels like the Mountain of the Moon where we stayed for the night…
We visited the famous waterfall and caves at Mabere Ga Nyamwiru in Kabolore District located 10 kilometres from Fort Portal. The area the waterfalls are located in is a beautiful spot with open spaces set in typical African rural settings.
We had to walk though a jungle path up to the waterfall. The scenic beauty around the caves is food for the soul. Nature walks to the nearby crater lakes can also be arranged by your guide.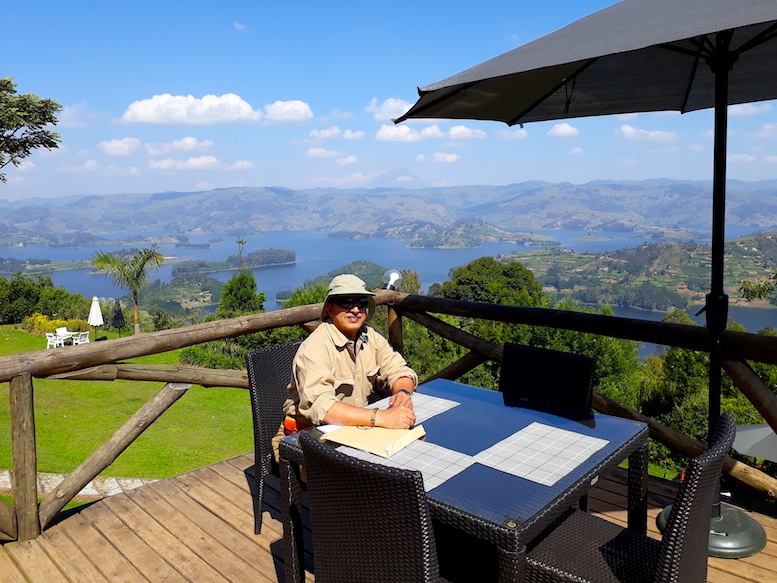 Lake Bunyonyi
The highlight of our team's visit to Uganda this time has to be the beautiful views of Lake Bunyonyi located in the district of Kabale in southwest Uganda. The calm waters of the lake reflect the verdant hills around it.
Much of the shoreline around the lake and swathes of the larger of the 29 islands have been converted to sustenance farming.
While this has no doubt robbed the lake of the deep green beauty of Uganda's natural vegetation, the snaking course of the water's edge and the rolling hills that overlook it are still undeniably stunning.
Bunyonyi is one of the safest lakes in Africa, it has no hippos or crocodiles and is a perfect place for a splash in the water.
A number of budget and luxury accommodation options are available around Lake Bunyonyi and in the nearby Kabale town. Whether you are on your way to visit the mountain gorillas in Bwindi Forest National Park or in Rwanda, Lake Bunyonyi is an ideal choice for a stop-over.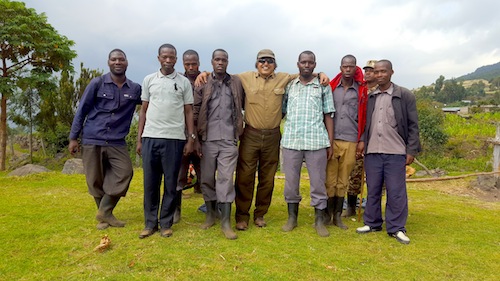 However, despite the many tourist attractions in Uganda, the country has not realized the full benefits from it tourism industry as compared to its neighboring countries such as Kenya, Tanzania and Rwanda. Uganda's total tourism receipts, for example, fell from 56billion shillings to 42.6billion shillings three years back – a loss of almost 25%. One of the main reasons for this could be the lack of effective promotional activities undertaken by government-appointed bodies like the Uganda Tourism Board.
Next door, Kenya's tourism industry has also been on the decline in recent years due to various safety and security concerns. Uganda could have used this opportunity to by promoting itself as an alternative holiday destination and capturing a share of the displaced tourist traffic from Kenya.
Travel and tourism contributes approximately 4% to the total GDP or just 2 million dollars while Agriculture contributes around 25 %, Industry 20% and Services 54%.
However, all this is about to change as Uganda's government plans to implement new policies to promote its tourism industry in new and emerging markets like the Middle East. The Middle East market for outbound tourism offers good opportunities for Uganda's tourism industry.
Improved air connectivity between Uganda and the Middle East has created new avenues for tourism. The close geographical proximity between key Middle East tourist markets and Uganda also counts in favour of Uganda.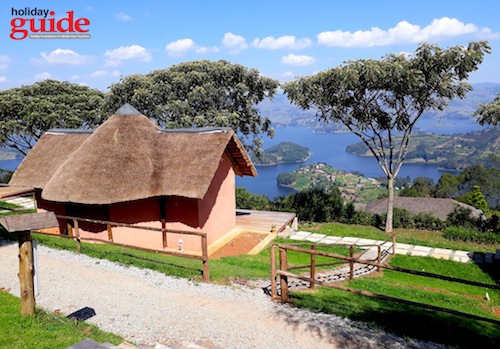 In 2016, the ministry of finance almost doubled its budget for tourism promotion to thirty billion shillings. This money was directly given to the Ministry of Tourism and Uganda Tourism Board to attract investments into Uganda's growing tourism industry and to attract tourists from new and emerging tourist markets across the world. However, not much is being done in the name of advertising and promotions… and Uganda's tourism industry has remained largely unrepresented in many growing tourist markets like the Middle East.
By promoting itself as a popular tourist destination, Uganda can also attract substantial foreign direct investments into its growing tourism industry. Currently, Uganda receives just 1.4 million international tourists compared to just 600,000 the country received in 2006. The government aims to attract over 4 million tourists by 2020… thereby making the tourism industry one of the major contributors to Uganda's GDP.
Undoubtedly, Uganda is an emerging tourist destination for travellers from the Middle East. Given Uganda's diverse landscape, flora and fauna, and its national parks, the country enjoys large potential for the development of nature tourism. It has wildlife safaris, gorilla tracking, adventure tourism, bird watching, and cultural tourism. It has mountains, the source of the Nile and the Great Lakes.
The country has also won accolades from various international travel publications – Lonely Planet named Uganda its top destination for 2012, and National Geographic Traveler selected the Virungas as one of the "20 Must-See Places for 2012."
Figures from the UN World Tourism Organization show that Uganda tourism has grown strongly since the turn of the century, with numbers of visitors growing fivefold between 2001 to 2010.
As our team headed back to Dubai, we carried back with us memories of this beautiful land and the warm hospitality of its people… A journey we thoroughly enjoyed and would most certainly recommend to our readers and followers.