Increasing numbers of travellers from newer source markets like  India, China, Far East and Saudi Arabia will eventually allow a return to  growth in the region's large hotel industry, according to industry experts – but only after a tough period ahead.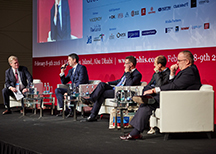 According to Alpen Capital Hospitality Report, the GCC's hospitality market is expected to grow at a 7.6% CAGR from an estimated US$25.4 billion in 2015 to US$36.7 billion in 2020. RevPAR in the UAE is anticipated to rise at an annual average of 1.8% to reach US$143 by 2020. Despite a challenging period last year and a weak average rate environment in 2017, the market is likely to recover in the long-term, driven by rise in tourist arrivals stemming from upcoming mega events and government efforts.
Key industry players, including hotel owners, developers and investors, will convene on February 6 & 7 in Abu Dhabi at the Gulf Indian Ocean Hotel Investors' Summit (GIOHIS 2017) to hear from around 90 speakers and discuss the challenges and opportunities presented by the evolving hotel industry, including the rise of the mega-travel companies, new and fast-rising hotel real estate companies and changes in the power structure of the industry.
"Diversification in new source markets will eventually allow a recovery in hospitality industry performance levels as emerging inbound markets gain traction" says Simon Allison, CEO of HOFTEL, leading association of hotel property investors and organiser of GIOHIS 2017.
Marko Vucinic, SVP MENA, Hotels and Hospitality Group, JLL MENA agrees, noting that: "India is now Dubai's first source market and countries such as China are targeted by Department of Tourism and Commerce Marketing in their campaigns and actions".  He adds that "The UAE market will remain under pressure in the short term, while in the long term we expect more positive sentiment. The UAE is currently building its place on the international map with the addition of new leisure, entertainment and tourist offerings".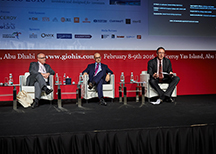 However, Simon notes that HOFTEL's owner members are all concerned about the long-term trends in the sector, where the large hotel brands are consolidating into giant travel companies to combat the marketing power of the online travel agents, who are meanwhile strengthening their grip on the online booking market.
Simon comments: "Owners are usually far smaller than their business counterparts (brands, OTAs and lenders) and so face a struggle securing the right deal.  They are still paying much the same fees to the brands as they were before the rise of the OTAs – and are now paying OTA commissions on top.  That's hitting margins and owners are looking for ways to unite and leverage their combined strength – a theme that will be a key focus of GIOHIS.  If they can do that, they will benefit fully from the upturn, when supply and demand stabilise.
GIOHIS 2017 will take place at the Yas Viceroy in Abu Dhabi from 6 – 7 February 2017, with around  90 speakers, including 34 hospitality industry CEOs, confirmed to participate. The event will offer a global range of perspectives with speakers attending from across the globe, including Australia, Sri Lanka, Thailand, Singapore, Mauritius, the Maldives, Bahrain, Qatar and Saudi Arabia.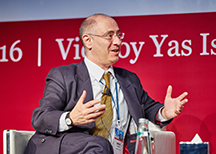 Key speakers include: Mohammed Al Mubarak, CEO of Aldar; Mike Goodson, Head of Hotels at ADIA; Joe Sita, CEO of IFA Hotels; Gaurav Bhushan, Chief Development Officer of AccorHotels; Mohamed Awadalla, CEO of Time Hotels; Olivier Chavy, CEO of Mövenpick Hotels; Nehme Darwiche, CEO of Jannah Hotels and Yannis Anagnostakis, CEO of RAK National Hotels.
---
About GIOHIS
2017 marks the second Gulf and Indian Ocean Hotel investors' Summit, an event run by hotel investors' alliance HOFTEL.  Around 90 speakers, many of them CEOs will explore topics of direct relevance to owners over one and half days in a series of short, punchy sessions based around presentations, debates and round tables.
---
About HOFTEL
HOFTEL is a global network of 70 hospitality real estate companies which use third party brands to manage or distribute their hotels.  Together, they control tens of billions of dollars of hotels and serviced apartments.  HOFTEL exists to give a consolidated voice to an otherwise fragmented part of the hospitality sector and to ensure that owners secure an equitable deal in their relationships with key service providers.