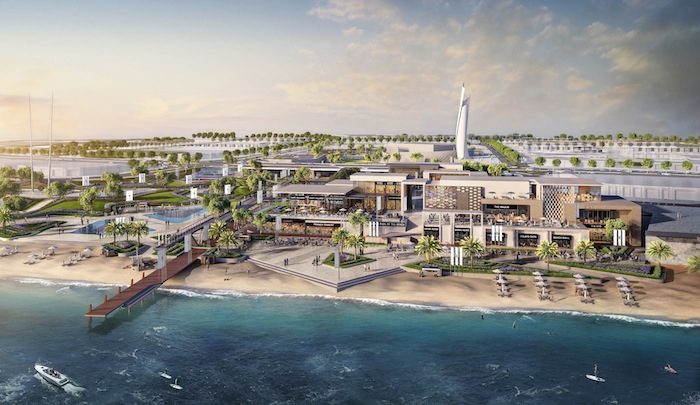 Abu Dhabi, UAE: Aldar Properties PJSC, Abu Dhabi's leading listed property development, investment and management company, has announced plans for its new AED250 million, 1,000,000 square foot public park on Reem Island. The park will be completed in 2018.
Situated in the heart of its master planned community on Reem Island, Aldar is reinventing the park experience in Abu Dhabi. Featuring a 2,000 worshippers' mosque with serene reflective pool, F&B outlets, retail centre, a skate park, play areas, and interactive water features throughout. The park offers a modern space in the capital for shopping, entertainment and leisure. In supporting Emirati entrepreneurship, Aldar will allocate a dedicated space within the park's retail offer to local businesses.
H.E Mohamed Khalifa Al Mubarak, Chief Executive Officer, Aldar Properties PJSC said: "We are proud to invest AED250 million to launch this new park and create a space that will benefit so many of Abu Dhabi's residents and visitors upon its completion next year. This park fits well within our strategy to create dynamic, amenity driven lifestyle destinations across our landbank in Abu Dhabi. With a retail element that will seamlessly blend a waterfront environment with urban vibrancy, the park will provide yet another leisure and entertainment option for everyone in the area."
Built on tiered levels creating a natural progression from high to low, the park will boast a variety of attractions and amenities that lead down to a natural waterfront, including a 4km promenade, providing visitors with edutainment opportunities about the area's natural reserves and plant life.
Aldar yesterday announced the launch of The Bridges, a 1.3 billion dirham mid-market development on Reem Island. The Bridges comprises six towers and 1272 units, with sales having commenced at Cityscape Abu Dhabi. Aldar's master planned community on Reem Island is already home to some of the Company's most iconic developments including Sun & Sky Tower, and the Gate & Arc Towers. It is also the location of Aldar's first mid-market project, Meera, which was successfully launched in June 2015 and is over 90% sold, with construction ongoing.
Reem Island offers significant benefits to residents through its close proximity to the central business district on Al Maryah Island and its connectivity to the centre of Abu Dhabi and other prime destinations within the Emirate.
---
About Aldar
Aldar Properties PJSC is the leading real estate developer in Abu Dhabi with USD10 billion in assets, a 75 million sq. m land bank, and through its iconic developments, it is one of the most well known in the United Arab Emirates, and wider Middle East region.
From its beginnings in 2005 through to today, Aldar continues to shape and enhance the urban fabric of the UAE's Capital City in addition to other key areas of the Emirate.
Aldar develops exciting and innovative projects, such as the internationally recognized HQ building situated in the Al Raha Beach development, the Gate Towers in Shams Abu Dhabi on Al Reem Island, in addition to Yas Island's F1 circuit.
Aldar's shares are traded on the Abu Dhabi Securities Exchange (Stock quote: ALDAR:UH), and is a profitable, cash generative business that provides recurring revenues, and benefits from a diverse and supportive shareholder base. Aldar operates according to high standards of corporate governance and is committed to operating a long term and sustainable business in order to provide ongoing value for its shareholders.
Aldar seeks to create quality, comfortable, desirable destinations that enrich the lives of Abu Dhabi residents as well as tourists within the Emirate. Aldar is playing a leading role in the development and provision of world class retail – Yas Mall, international standard education through Aldar Academies, iconic entertainment venues such as the Yas Marina Circuit, and community amenities across its entire portfolio.
Aldar is driven by a vision to be the most trusted and recognized real estate lifestyle developer in Abu Dhabi and beyond.