An Italian shoe designer who dazzled the Arab world with a pair of golden loafers is returning to the Gulf region next week with his latest creation, a women's collection of 24 karat gold embossed, diamond encrusted heels.
Antonio Vietri has a penchant for delivering the ultimate in luxury, and was a crowd favourite at Dubai's Leatherworld Middle East exhibition last year, when he launched a pair of EUR 25,000 blue suede loafers with gold ribbons weaved into the outsole.
Now he's set to turn heads again at the third edition of the regional leather industry's showpiece event, with the official world premiere of his most recent hand-made women's collection.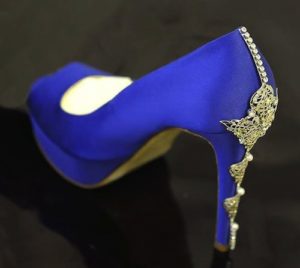 The Turin native's newest high-end niche range is naturally targeted toward an exclusive type of customer, and he'll spare no expense in delivering his gilded stilettos, which can cost as much as EUR 30,000.
"The price includes delivery by helicopter, and the shoes are presented in a black lacquered box," Vietri said.  "The collection also features silk pumps embossed with gold or silver and buyers can customise them if they wish with pearls, Swarovski crystals, or diamonds.
"I'm delighted to officially unveil my women's collection at Leatherworld Middle East 2017, following the resounding success of the global launch of my men's collection at the show last year," added Vietri.
"Gulf consumers love exclusivity and luxury that's entirely unique, and I'm looking forward to presenting to customers and retailers something completely different from anything they've seen before."
Antonio Vietri is one of more than 60 exhibitors from 18 countries at Leatherworld Middle East 2017, which takes place from 30 April – 2 May at the Dubai International Convention and Exhibition Centre.
He'll officially launch his women's collection at 11:00am on the opening day of the three-day event, and will be accompanied by Turin City Council dignitaries, and senior representatives from Leatherworld Middle East's organiser, Messe Frankfurt Middle East.
Meanwhile, dozens of other exhibitors will launch their latest products and services at the Middle East's only dedicated trade fair spanning the leather industry's entire value chain.
IkhayaElite Collection from South Africa is a first-time exhibitor in 2017, and will introduce its genuine exotic ostrich skin travel bags, handbags and accessories.  Managing Director Jacobus le Roux, said: "We use only the finest exotic ostrich skins, sourced locally, for our products and the workmanship is on par with world class brands, but affordable.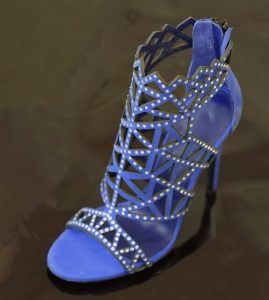 "Our designs are simplistic and in line with global trends and most of our bags and accessories can be worn by both male and female.  We'd love to build relationships with corporate companies and travel stores in the Middle East in order to supply them with our handcrafted items."
Leatherworld Middle East 2017 also returns with the Fashion Avenue, where a talented team of students from prestigious fashion institute ESMOD Dubai will reveal their creative flair with an inspiring array of leather garments, handbags, and accessories.
Eleven looks have been selected to be exclusively showcased, two of which have been created by first year students at ESMOD Dubai, and the other nine by second year students.
ESMOD Dubai's Founder & CEO, Tamara Hostal, said the creations were developed from leathers provided by Leatherworld Middle East exhibitors Afriwest and Al Khaznah Tannery – the UAE's only tannery producing chrome free eco-friendly camel hides.
"The final pieces will be mostly seen as dress creations in full leather or paired with cotton in a palette of beige, turquoise, navy blue, camel and cappuccino," said Hostal.  "The themes this year revolve around galaxy, space and zero gravity, and the students provided a mood board at the initial stage presenting the progress and direction of their ideas.  From here each student went on to design a cloth with a choice of fabrics to proceed to the final assembly of pattern making and stitching."
Hostal said ESMOD Dubai's continued association with Leatherworld Middle East and the regional leather industry is crucial for her students to become well-rounded fashion designers.
"The collaboration continues to allow students to develop their ability in pattern making and to work for the first time with leather skins, a material that is not easy to perfect in regards to stitching as it requires special needles, thread and experience due to its thickness," she added.
"Usually leather is never covered in fashion programs, and we're very grateful for this collaboration with Afriwest and Al Khaznah, with whom students have had interacted with frequently throughout the year."
Leatherworld Middle East 2017 spans the entire value chain of the global leather industry, from semi-finished and finished animal hides, chemicals, and machinery to finished leather goods, including footwear, clothing, bags, wallets, and accessories.
The ultra-luxurious B2B platform will return with other key show highlights such as the Trend Area, a showcase of leather innovations seen for the first time; Leather Production for tanneries and dealers of semi-finished and finished animal hides; and the Shoe Box, a dedicated section for mid to high-end leather footwear.
"Leatherworld Middle East was designed to showcase innovative and novel products and ground-breaking designs in leather manufacturing, design and finishing," said Ahmed Pauwels, CEO of Frankfurt Middle East.  "The show's vast reach makes it a very efficient vehicle to reach the potentially lucrative regional market."
Leatherworld Middle East 2017 will feature national pavilions from France, South Africa, Indonesia, and for the first time, Egypt, while supporting associations are headed by the French Hides Association, the French Federation of Tanners, South African Footwear and Leather Export Council, the Indonesian Footwear Association, and the Egypt Expo and Convention Authority.