Auto Parts Exhibition and Trade Fair to be held in Dubai gets bigger, better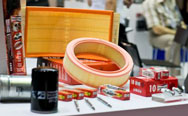 Automechanika Dubai is the event for the rapidly developing automotive aftermarket in the wider Middle East and Africa. The automotive aftermarket in the region is very strong with automotive trade growth as a result of increasing domestic and regional demand fir vehicles, related goods and services. In terms of exhibitors, more than 1,350 companies featuring products and services across the entire spectrum of the automotive aftermarket industry were represented from different countries, rendering it a truly international exhibition.
After a record year in 2016 in terms of exhibitor numbers and square metres occupied, Automechanika Dubai has truly established itself as an internautomechanika dubai 2011 exhibitionational trade fair of global acclaim. Due to the show's exponential growth since its inception, Automechanika Dubai was recently awarded title of "Fastest Growing Show in the Middle East/Africa" by Trade Show Executive's Fastest 50.
Automechanika Dubai – the largest international automotive aftermarket trade fair in the wider Middle East – the 15th edition will be taking place between 7 – 9 May, 2017 at the Dubai International Convention and Exhibition Centre.
The 2016 show aims to be even bigger and better, featuring:
addditional exhibition space more participation of market leaders from the automotive sport, workshop equipment, tyres & batteries, parts & systems, electronics & systems, repair & maintenance and accessories & tuning industries worldwide highly focused conferences for industry professionals.
Why Visit
In 2017, Automechanika Dubai will be introducing more product varieties for Tyres & Batteries and Accessories & Tuning. Tyres & Batteries section will include products such as industrial tyres, and tyre repair products. Accessories & Tuning section will have Adaptive Car Accessories (custom equipment for the disabled).
At Automechanika Dubai you will see leading brands from all over the world. You will meet leading manufacturers and distributors, see the latest trends and service improvements from the global automotive aftermarket industry and source new products & solutions.
About Automechanika Dubai
Automechanika Dubai is the event for the rapidly developing automotive aftermarket in the Middle East. The event covers the full range of parts for motor vehicles, as well as components for the drive, chassis, body, electrics and electronic groups, equipment for vehicle service and repair, bodywork repair and painting, tyres, batteries and performance systems.
Who Should Visit?
Wholesalers, distributors, traders, managers, owners, industry professionals and producers from the following industries: spare parts and accessories, car repair shops, service stations, production of vehicle fittings (OEM), car manufacturing, fleet management, organisations/ associations, car trade, garage equipment and tools, officials/public authorities, university/ college/polytechnics.
Products Showcased
Once again, the exhibitors at Automechanika Dubai will have an opportunity to be represented at the section they belong to. The show will be divided in 5 sections:
Parts & Components
Electronics & Systems
Accessories & Tuning
Tyres & Batteries
Repair & Maintenance
Service Station & Car Wash
Booking Details
If you are interested in getting first hand information from our representative in your country, please just send an email or fill in the contact form, and your enquiry will be forwarded to your local contact person. The sales agent in your region will also be able to inform you about a possible national pavilion and possible government funding for exhibiting at Automechanika Dubai.
The prices for an individual participation include the entry in the official show catalogue as well as free exhibitor badges and visitor invitations. Choosing the space only option will give you plenty of opportunities to represent your individual company image by getting a stand contractor to create an individual design for you.
Visitor Registration
Fill in the form below if you are planning to visit Automechanika Dubai 2016 ot if you are planning to particiapte in the exhibition: